About Hertzog Eye Care

The story of Hertzog Eye Care is the story of an incredible Long Beach family, the Hertzogs, and their legacy and impact they continue to have on the Greater Long Beach area. Dr. Leif Hertzog is a 4th generation Long Beach ophthalmologist who has practiced for 27 years, and together with his son, Dr. Dieter Hertzog, they own and operate Long Beach's leading eye institute. For more information about the practice and the staff, take a look at the bios below:
---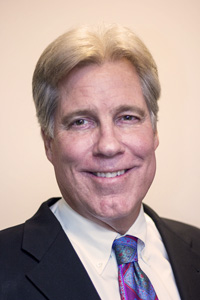 Leif M. Hertzog, M.D.
Dr. Leif Hertzog is a fourth-generation physician and eye surgeon. He specializes in the most modern techniques of cataract surgery and intraocular lens implantation. His particular emphasis is on PREMIUM intraocular lens implants that help to reduce, and sometimes eliminate, a person's dependence on glasses. Dr. Hertzog is very experienced with the ReSTOR® multifocal lens implant that helps patients to see well post-operatively at distance and near, often without any glasses.
Read Dr. Leif Hertzog's Full Biography
---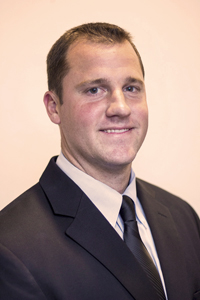 H. Dieter Hertzog, M.D.
Dieter Hertzog M.D. is a fifth-generation physician and eye surgeon. Dieter earned his undergraduate degree in Biochemistry from Harvard University in 2005. He went on to Loma Linda School of Medicine, where he earned his M.D. and ranked 1st in a class of 169 students. He was awarded the President's Award as the top medical student in his graduating class. His residency was completed at Doheny Eye Institute/USC Department of Ophthalmology, a program consistently ranked in the top 10 in the US. Dieter spent a large amount of time working at Los Angeles County – USC Medical Center where he logged over 1500 surgeries & laser procedures in one of the busiest hospitals in the US. Dieter Hertzog is a leading Ophthalmologist in Long Beach.
Read Dr. Dieter Hertzog's Full Biography.
---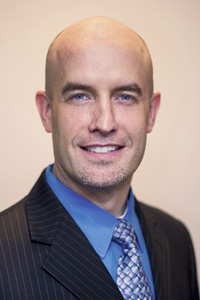 Darcy C. Ryan, O.D.
Darcy C. Ryan, O.D. has been practicing with Dr. Hertzog since 2000. He performs general and specialty exams on children through adults, treats eye disease, and prescribes glasses (including prism correction for double vision) and various types of contact lenses (including silicone hydrogels, multifocals/bifocals, torics, and rigid gas permeables). His training included a 6-month rotation at the esteemed Bascom Palmer Eye Institute, one of the top eye disease hospitals in the country. He completed his undergraduate studies at the University of Waterloo in Ontario, Canada, and then obtained his Doctor of Optometry from the Indiana University School of Optometry.
Read Dr. Ryan's Full Biography
---
Laura Hertzog, RN, BSN, MSN, NP
Laura joined Hertzog Eye Care in 2013 after earning her Master's degree in nursing from Cal State University Long Beach. Prior to this, Laura earned her RN and Bachelor of Science in Nursing from Long Beach State in 2007, earning Honors as both an undergraduate and graduate during nursing school. She subsequently worked as a Registered Nurse in the Pediatric Intensive Care Unit at Miller Children's Hospital at Long Beach Memorial. After 3 years, she took a full-time job as manager in the post-operative recovery unit at a Surgery Center in San Diego. She spent an additional 3 years earning her Masters Degree in nursing and subsequently worked as a Nurse Practitioner, teaching nursing students at her alma mater. Laura gained her experience in cosmetic medicine while working at a plastic surgery center, a medical spa, and taking many hands-on courses.
Read Laura Hertzog's Full Biography
---
Meet The Hertzog Eye Care Staff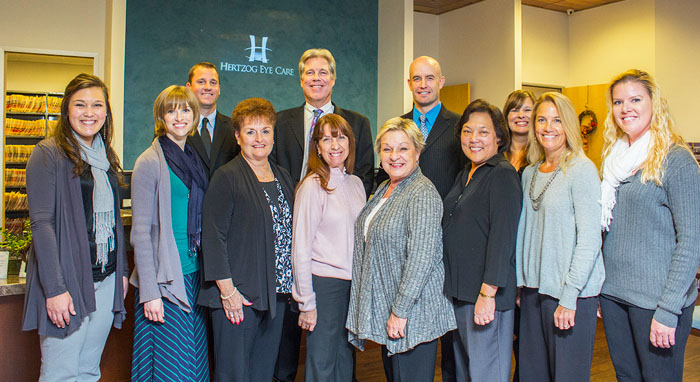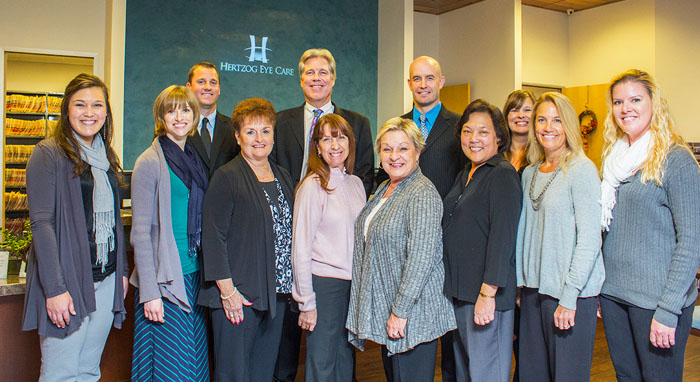 The one thing you can rely on with our staff, besides kind and courteous eye care, is consistency. Over the years we've had very little turnover, which assures that you will see the same smiling faces every time you come in to see us. In our sometimes crazy world of change, let Joyce, Kimmy H., Kimmy B., Marsha, Michelle D., Michelle O., Terrie, Lynne, Liane, and Kelly provide you with some stability. Your eyes are worth it.
Schedule a consultation with one of our Optometrist Long Beach today.