Long Beach LASIK Surgeon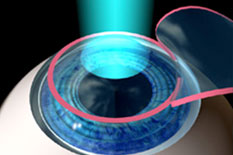 The Stats
LASIK is the most performed refractive surgery procedure. Approximately 700,000 LASIK procedures are performed each year in the United States.
What is LASIK?
LASIK, stands for laser-assisted in situ keratomileusis. At Hertzog Eye Care, all LASIK procedures are performed with the latest technology. Customized LASIK procedures are offered to all patients who are candidates. All surgeries are performed with the iFS femtosecond laser and the VISX Star S4 laser, allowing the surgery to be performed without any blades or cutting. It is painless and vision is almost instantly improved. Nearsightedness, farsightedness, and astigmatism can all be corrected within certain parameters.
The Technology
Our Laser Eye Surgeons Long Beach perform LASIK using the latest Wavefront technology, which allows for the most accurate results when performing pre-operative measurements. The iFS femtosecond laser and the VISX Star S4 excimer laser allow the surgery to be performed without any cutting or sharp instruments. The result is clearer vision without glasses for most patients.
Who is a Candidate?
The first step to finding out if you're a good candidate for LASIK is by making an appointment. Once we determine your prescription and perform a dilated ocular health exam, we can discuss your candidacy further.
Laser Eye Surgeon Long Beach
At Hertzog Eye Care, our physicians are experienced professionals at providing LASIK surgery utilizing the latest technology. Contact Hertzog Eye Care if you are looking for a leading laser eye surgeon Long Beach to correct your vision.